Adult Education
Regardless of your level of Jewish knowledge, there are exciting learning opportunities at Beth Hillel Bnai Emunah. From Jewish cooking to text study, from learning about Jews in far flung lands to learning about the siddur (and so much more), Adult Education strives to bring a variety of programming to our congregation to satisfy the diverse learning interests of our members. Joining a class is a great way to feel connected to your shul community.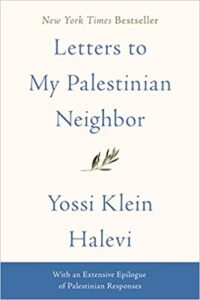 Your Adult Education Committee is pleased to announce the return of our esteemed and beloved teacher SANDY GOLDBERG!!
Monday evenings, beginning June 21st at 8:00pm on Zoom (10-11 sessions; look for the Zoom link in your Virtual Shul morning email), running on consecutive Monday evenings through August 23rd or 30th
In the course we will read Yossi Klein Halevi's 2018 book, LETTERS TO MY PALESTINIAN NEIGHBOR, in which he explores the Israeli-Palestinian conflict with an eye towards getting both sides to listen to the "dueling narratives of two traumatized people." This class will involve a good deal of discussion. We will focus on (i) Halevi's interpretation of the recent history of the conflict, (ii) his attempt to be respectful of the Palestinian narrative, and (iii) the ethical and political principles that underwrite his discussion. We will also read several (favorable and critical) replies to the book, from both Jews and Palestinians; and we will consider whether events that have transpired since the publication of this book should alter any of the views he expresses in it.
It would be helpful to have a copy of the book, which makes for very accessible reading. And the chapters are not long!
The Florence Melton School
Beth Hillel Bnai Emunah has established a relationship with the Florence Melton School of Adult Jewish Learning. Check out the Melton School website for more information.
You can always call the synagogue office at 847.256.1213 with your questions or suggestions. We look forward to learning with you.
Other Wonderful Resources