Gift Shop
JUST ARRIVED, A NEW SHIPMENT OF
MICHAEL ARAM BEAUTIFUL MEZUZOT
Great for the new apartment, condo or home! $55 each.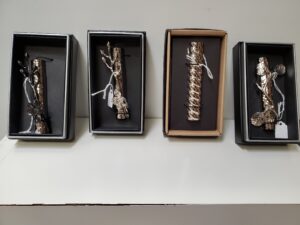 Left to Right:
BLACK ORCHID MEZUZAH
Inspired by orchids, strikingly simple yet full of the most extreme detail.  The dark atmosphere of the orchids against the hammered metal is "like the afterglow of a beautiful evening: 5″ L x 1.5" W, made of nickelplate and black nickelplate.
WHITE ORCHID MEZUZAH
Illuminates the spirit  of the orchid flower, of purity, delicacy and grace. In white nickel, it takes on an element of brightness representing new beginnings, like a newlywed couple. 5″ L x 1.5″ W, made of nickelplate.
TWIST MEZUZAH
Inspired by the idea that the whole can be greater than the sum of its parts.  Asymmetry is created that is calming and classical. 4.5″ L
BOTANICAL LEAF MEZUZAH
Takes its inspiration from the intricate form and texture found in particular types of foliage. It celebrates the twisting branches as much as it does the leaves themselves. 4.5″ L, made of nickelplate.
For additional information or to purchase, contact:
Joan – 847-602-2257/Robin – 847-287-1233
THE JUDAICA GIFT SHOP WILL BE OPEN THIS SUNDAY,
JULY 25TH AT 3:30 PM BEFORE SANDY FINKEL'S CONCERT