JUDAICA SHOPPORTUNITIES
We're still celebrating the start of a New Year!
Let the Judaica Shop help put you into the celebratory mood!
Sisterhood is planning a fun event on Thursday, January 26th.
STOP IN THE SHOP TO SEE OUR FUN ITEMS.
OPEN 7-7:30 PM
REMEMBER: for every $10 spent, you may select
one grid on our Super Bowl Board. Winners to be
selected on Superbowl Sunday, after the game.
The Gift Shop will be open on Sundays from 9:00-Noon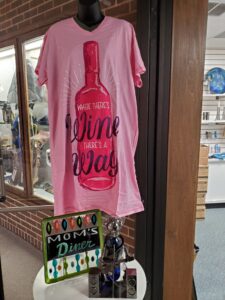 TOP:
*Adorable pink NIGHTSHIRT with the verbiage: WHERE THERE'S WINE THERE'S A WAY; part of the Judaica Shop's nightshirt collection. Fun shirt, washes beautifully and comfortable to wear; one size fits most.  ONLY $32.
BOTTOM LEFT:
*MOM'S DINER GLASS SERVING PLATTER!  Another way to celebrate!  ONLY $22
BOTTOM RIGHT:
*METAL GUITAR PLAYER WINE HOLDER; holds a standard bottle of wine; wear your nightshirt and have your own party!  ONLY $36
Please contact us for additional information or to purchase:
Robin – 847-287-1233 / Joan – 847-602-2257
We are available to meet with you by appointment!