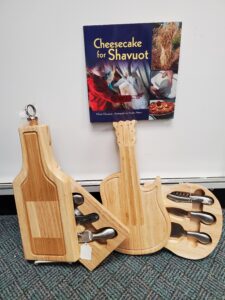 TOP:
Special Book for Shavuot:  Cheesecake for Shavuot,
Great price of $9.00 – 10% discount, only $8.10
LEFT TO RIGHT:
**Wine bottle shaped wooden appetizer/Cheese Board with
tools inside.  Just slide open the lid and you'll find a
cheese knife, a cheese fork and a cork screw wine bottle
opener.  The tools feature stainless steel blades and handles.
Can be purchased at a great price:  only $50.
**Unique guitar shaped split level wooden Cheese Board; swivels
open to reveal 3 gourmet tools inside which include a pointed tip
cheese knife, a hard cheese knife and a corkscrew.
Tools store neatly inside the bottom portion of both the wine and
guitar cheese boards when not in use.
Specially priced at $50.
THESE ITEMS MAKE GREAT GIFTS FOR HOLIDAYS, ANNIVERSARIES
AND HOUSEWARMINGS!