Gift Shop
JUDAICA SHOPPORTUNITIES
LET US REJOICE! MOSES RECEIVED THE
TEN COMMANDMENTS ON MOUNT SINAI!
AND SO,TOO…LET THE CHILDREN REJOICE!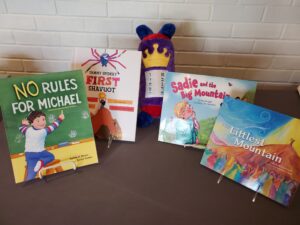 Starting clockwise, bottom left to right:
Take 10% off quoted price on all books.
* No Rules for Michael (Pk-1), Michael thinks
  school would be more fun without rules and gets
  his wish.  But is it exactly what he was hoping for?
  $7.00.
* Sammy Spider's First Shavuot (Pk-3), What's a
   recipe?  Sammy Spider asks his mother as he
   watches Mrs Shapiro makes blintzes for Shavuot.
   As Sammy follows the holiday preparations, young
   readers will learn how the Torah, given on Shavuot,
   is also a "recipe for life"  Hard Cover special price $10.00
*  Purple fluffy TORAH, one foot high…Only $15.00
*  Sadie and the Big Mountain (PK-1), When her pre-school
    plans a Shavuot hike just like Moses took up to Mt Sinai,
    Sadie's afraid she's too little to make it to the top; she
    tries to think  of ways to be absent but when the day
    comes, she learns that anyone can climb high enough
    to reach God.  $8.00
*  The Littlest Mountain (PK-2); God realizes that people
    of the world needs rules to live by and decides to speak
    to them from a mountaintop. Beautiful  Mt Carmel, tall Mt Hermon
    and majestic Mt Tabor all vie for the honor of being chosen.
    But little Mount Sinai is silent.  Which mountain will God
    select?  $8.00
For additional information or to purchase, contact:
Robin 847-287-1233/Joan 847-602-2257
MASKS ARE STILL NEEDED INDOORS, IN THE
SHUL, IN STORES.  ALL MASKS $12.