Let the good times roll with all our fun merchandise found in the BHBE Judaica Gift Shop. Check out our items for all ages. This week, we are showcasing items for the "kiddies." We will start at 12:00 and move counterclockwise: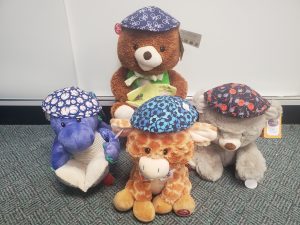 12:00 -BRADFORD, THE STORY TELLING BEAR telling the story of Goldilocks and the 3 Bears with Goldilocks and 3 bear puppets on the back. And what's on Bradford's head but a blue and white bicycle kippah, great for a child! All kippot displayed $9.00 BRADFORD $38.00
9:00 – DALTON, THE PURPLE STORYTELLING DRAGON reading a book of fairy tales: Hansel and Gretel, Jack and the Beanstalk, Rapunzel, The Ugly Duckling, and Sleeping Beauty. On his head, a red, white and
blue baseball kippah. $9.00 DALTON $42.00
6.00 – ALPHABET JOEY singing the Alphabet Song and 10 Little Elephants. He's wearing a blue and black
soccer ball kippah – $9.00 ALPHABET JOEY $40.00
3:00 – MY BEAR COBY singing "If You're Happy and You Know It" and the Bumblebee Song. He's wearing a black and orange basketball kippah – $9.00 COBY $40.00
ALL ANIMALS COME WITH TWO BATTERIES AND AN ON OFF SWITCH. THESE ANIMALS ARE SO MUCH FUN! LET US KNOW WHEN YOU WANT TO SET UP AN APPT.
Please contact us for additional information or to purchase:
Robin – 847-287-1233 / Joan – 847-602-2257