Clergy
Rabbi Nate Crane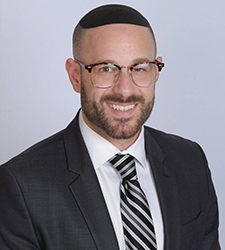 Rabbi Nate Crane assumed Beth Hillel Bnai Emunah's pulpit in 2019. 
In 2020, Rabbi Crane was appointed to serve on the prestigious Committee on Jewish Law and Standards (CJLS), the governing body of 25 voting rabbis determining Jewish law and practice for the Conservative movement as a whole.
Rabbi Crane follows a tradition of Beth Hillel Bnai Emunah rabbinical predecessors who served on the CJLS, including Rabbi Dr. Reuven Hammer, z" l, and Rabbi David H. Lincoln. Rabbi Crane has the tremendous honor of filling Rabbi Hammer's seat on the Committee.
Rabbi Crane is the author of the teshuvah (responsum) "Adoption," approved by a unanimous vote of the CJLS. This responsum explores the halakhic status of people who have been adopted, including the parental and filial obligations involved, and offers a Jewish ritual and accompanying documents to celebrate and mark adoption. In 2020, he co-authored the CJLS' COVID-19 Guidance for Kol Nidrei with Rabbi Pamela Barmash, CJLS co-chair. 
Rabbi Crane is a Rabbi Samuel T. Lachs Fellow with Clal-The National Jewish Center for Learning and Leadership, in partnership with the Herbert D. Katz Center for Advanced Judaic Studies at the University of Pennsylvania. He is one of ten rabbinic LEAP Fellows selected for the 2020/2021 academic year, working to leverage, expand, and popularize (LEAP) the most cutting-edge work coming out of academic Judaic studies.
The Jewish United Fund of Metropolitan Chicago's Young Leadership Division named Rabbi Crane to its 2020 Chicago's Jewish 36 Under 36 List, recognizing "Chicago's outstanding Jewish young adults making a difference."
Rabbi Crane sits on the Board of the Anti-Defamation League's Midwest Region and the Rabbinic Advisory Committee of Yatom: The Jewish Foster and Adoption Network. He is the recipient of the NewCAJE Young Professional Fellowship, the PJ Library Grant from the Harold Grinspoon Foundation, and the Start Me Up! Fellowship and Grant from Phoenix's Valley Beit Midrash.
Prior to joining BHBE, he served as a Rabbi at Congregation B'nai Tikvah in Deerfield, IL, and most recently as a Rabbi at Congregation Or Tzion, in Scottsdale, AZ. While at Congregation Or Tzion, Rabbi Crane founded the nonprofit Hagigah: Dedicated to Providing Accessible, Engaging, and Fun Jewish Holiday Celebrations for Families With Special Needs, which has since been absorbed into Phoenix's largest Jewish organization that supports individuals with special needs, Gesher Disability Resources.
Rabbi Crane earned a bachelor's degree in psychology from American Jewish University in his hometown of Los Angeles, CA, and a master's degree in rabbinic studies and Ordination from the Ziegler School of Rabbinic Studies. 
He is blessed to have married his college sweetheart Rachel, and together they are the proud parents of two daughters, Isla (7) and Ellie (4).
He can be reached at rabbi@bhbe.org or 847-256-1213 ex. 12.
Cantor Pavel Roytman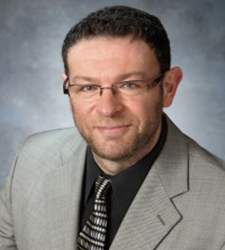 Cantor Pavel Roytman is a native of Nikolaev, Ukraine. At the age of seven, he was accepted as a piano student to a music school for gifted children. He continued his studies in piano and conducting at the Kaliningrad Music College (Russia) and later at Petrozavodsk State Conservatory.
In 1994, Cantor Roytman immigrated to the United States where he obtained his Bachelor of Music in Voice Performance from DePaul University and Master of Music in Musicology from Northwestern University. He also studied chazzanut with such well-known masters of cantorial art as Hazzan Shlomo Shuster, Hazzan Henry Rosenblum, Hazzan Cory Winter, and Hazzan Alberto Mizrahi.
From 2002-06, Cantor Roytman participated in a cantorial certification program. Upon his completion, he was ordained as a cantor by the American Conference of Cantors.
Cantor Roytman has made numerous appearances at the Greater Chicago Jewish Folk Arts Festival, Chicago YIVO Society, Illinois Holocaust Museum and Educational Center, Illinois State Fair, Chicago City Winery, Chicago Summer Dance Festival, Annual Kristallnacht Commemoration, Israel's Independence Day at Ravinia, Sir George Solti Annual Festival, the International Klezmer Gala in Stockholm, and the International Jewish Music Festival in Tsfat, Israel.
In 2004, Cantor Roytman received first prize in Voice/Cantorial Singing at the 2nd Annual Golden Hanukkiah Competition of Jewry Arts, sponsored by the World Congress of Russian Jewry, Berlin, Germany. In 2017, he was awarded a Certificate of Recognition by the Cantor's Assembly at its annual convention.
Cantor Roytman has appeared on stage — both solo and with a number of distinguished musicians and musical ensembles — including: Chicago Acapella, Renovo Strings, Lincolnwood Chamber Orchestra, members of Chicago Symphony Orchestra, Corky Siegal and Chamber Blues,  The Maxwell Street Klezmer Band, B'hai Temple Choir, The Bright Star Church Choir, Kol Zimrah Jewish Community Singers, and the Campanella Children's Choir.
His voice was featured on three CDs: Journey of The Heart w/Cantor Marina Shemesh, Zing Mein Hartz w/ Klezmer Shpil Orchestra and Koleynu — with TBI Choir.
Cantor Roytman's creative work includes liturgical and secular compositions for voice and choir. In 2017, Cantor Roytman wrote and produced "The Singing Yid" — a musical show based on his life and experience in Russia and the U.S.
He is a member of the American Conference of Cantors, Chicago-Milwaukee Association of Synagogue Music and Cantor's Assembly.
As BHBE's hazzan, Cantor Roytman leads services, conducts congregational Adult and Children's Choirs, oversees the synagogue's Bnai Mitzvah program, teaches Hebrew School and Adult Education classes, and shares pastoral and life cycle responsibilities with Rabbi Nate Crane. He also maintains a presence in the larger Jewish community as a recognized BHBE ambassador.
Cantor Roytman created the concept of Beit Musica, which positions BHBE as the premier Jewish musical center among Conservative synagogues in north suburban Chicago.
He resides in the Chicago area with his daughter, Shana.
Click here to view the Cantor's website and to hear samples of his music.
Click here to read more about Beit Musica
Click here to watch Tuneful Tuesdays Videos
Cantor Roytman can be reached by phone at 847.256.1213 x13 or cantor@bhbe.org.
Rabbi Allan Kensky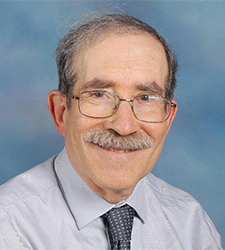 Rabbi Allan D. Kensky retired from BHBE's pulpit in June 2013, following 11 years of devoted and distinguished service. As Rabbi Annie Tucker assumed our pulpit, Rabbi Kensky was named Rabbi Emeritus.
Born and raised in New York City, Allan Kensky received his early Jewish education at the Hebrew Institute of Long Island in Far Rockaway, New York. He earned a BA in political science from Queens College. In 1967, he entered the Jewish Theological Seminary (JTS), where he specialized in the study of rabbinic texts at JTS' Herbert Lehman Institute of Talmudic Ethics. While at JTS, he also studied political science at New York University, which awarded him a master's degree in 1971.
Upon his ordination in 1971, Rabbi Kensky assumed the pulpit of Beth Israel Congregation in Ann Arbor, Michigan. While serving as spiritual leader of Beth Israel for 17 years, Rabbi Kensky pursued doctoral studies in midrash at JTS; he was awarded a Ph.D. in 1990. His doctoral dissertation was a critical edition of the Midrash Tanhuma on the Book of Exodus.
In 1988, Rabbi Kensky moved to Philadelphia, and for three years served as scholar-in-residence at Har Zion Temple. About the same time, he began leading a seminar for JTS Rabbinical School students designed to impart strong professional skills to aid them in their spiritual development. He was associate dean of the Seminary's Rabbinical School from 1991-99 before serving as JTS Dean from 1999-02.
Rabbi Kensky is the father of Meira and Eitan who is married to Jennifer Broxmeyer. The couple has a young son, Simon. His late wife, Dr. Tikva Frymer-Kensky, was professor of Hebrew Bible at the Divinity School of the University of Chicago, until her passing in August 2006. In July 2008, Rabbi Kensky married Dr. Adina Kleiman, a psychologist in private practice, who appreciates being part of the BHBE synagogue community.
Rabbi Kensky can be contacted via email.