BHBE News
BHBE News: 6.25.2020
06/25/2020 11:54:19 AM
| | |
| --- | --- |
| Author | |
| Date Added | |
| Automatically create summary | |
| Summary | |
Thursday, June 25th, 2020
Friday, June 26, 2020
Candle Lighting 8:11pm
Shabbat, June 27, 2020
5 Tammuz 5780


Zoom Gala Gala

In 3 days we'll join together for our 62nd annual celebration, Zoom Gala Gala.  To date we have 130 households registered.  If you haven't already, you can register for the event until Sunday at 5pm, but why wait?  Go to BHBE.org and follow the link to the Zoom Gala site, where you can  purchase a tribute or name listing to register.  GalaRama raffle ticket purchase will close Friday at 12 noon. Winners will be announced during the Gala.

You'll enjoy Corky Siegel and Howard Levy play the blues on harmonica, Alex Koffman from Maxwell Street Klezmer will treat us with his violin, acapella from Freddie Feldman and "Listen Up!", Meaghan Sands beautiful voice, the Octet vocals and much more.

Registrants will receive the log on information by e-mail on Friday and again on Sunday.  It will be sent to the e-mail address you used to register.  The e-mail will include the link to the Zoom After Party which will directly follow the Gala.  Thank you for your support.  We can't wait to "see" you. 
Raffle Tickets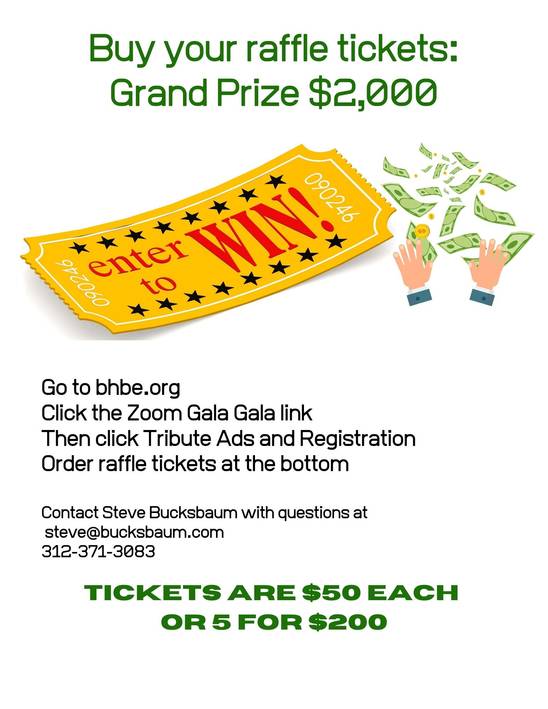 As you are likely aware, when we began transitioning to a "Virtual Shul" we created a webpage with all of this information. We stopped using the online calendar we've all been using for years. Beginning June 29th, we will resume using the online calendar to indicate all of our events. We will be specific and label events held online as "Virtual". When we can resume holding events in person, we will list these here as we've always done. Please let me know if you have any questions. Be well. Michael michael.kahn@bhbe.org


In Celebration of the Fourth of July our office will be closed on July 3rd. 
BHBE Volunteer Crew Update
Thanks to the extraordinary efforts of the BHBE Volunteer Crew, we have assisted numerous congregants with shopping and other assistance. As a reminder, if you are in need of support, please email Karen Thirman at
kthirman@gmail.com
 or contact the BHBE office at 847-256-1213 and leave a message.  We will coordinate your needs with our list of amazing volunteers. 
Virtual Pride Havdalah with Chicagoland Jewish Communities
Saturday June 27th, 9:20 p.m.

While Chicago's annual Pride Parade has been canceled for 2020 and so BHBE will not be marching this year, BHBE is a co-sponsor of a community Pride Havdalah event. Join the Chicagoland Jewish Communities as we honor our LGBTQ+ community virtually via Zoom.(Our regular Saturday evening Havdalah with the Rabbi and Cantor will merge with this program.) We'll embrace Havdalah together, and afterwards hear from speakers, enjoy songs, writings, and more. All members of the LGBTQ+ and Allies communities are invited to join this totally free event at any point in the evening that feels comfortable.  You can register  Here  to receive the link.


Core Partners:
Anshe Emet Synagogue
Beth Emet the Free Synagogue
Beth Hilel B'nai Emunah
Jewish Reconstructionist Congregation
Keshet - For LGBTQ Equality in Jewish Life
Temple Sholom of Chicago
Building Bridges Across the Racial Divide -- Virtual Presentation
Co-Sponsored by the Northbrook Public Library and RAIN (Racial Awareness in the Northshore)

Monday, June 29th - 7-8:30 p.m. 

Registration through the Northbrook Public Library is required for the link, but you need not be a card holder.  

Larry and Sandy Feldman, authors of Building Bridges Across the Racial Divide, will talk about their research and their experiences of building bridges, and what kinds of outreach programs have a higher likelihood of success.  Following their presentation Van Gilmer and Bruce Bondy will share their experiences of establishing authentic relationships between individuals from different racial groups.  The program will end after a Q&A period.

Below is the link to the Library Registration for the event:

Link

NOTE:    This event will be held live using the RingCentral Meetings platform, which is a video conference app like Zoom. You'll need to download the Ring Central app, You're encouraged to download the software ahead of time if you have not used it before: https://www.ringcentral.com/apps/rc-meetings. It has a reputation for being easy to use.
Why Leave a Legacy to BHBE
We were put to the test

We were faced with disruption 

We were challenged by barriers

We were forced to adapt

And here's what we did

We responded with vision, confidence and strength

Let's do the same for our Future

"So do I plant for those who will come after me"

Our Children and Grandchildren will thank us
For more information please
click here
or contact Michael Kahn -
michael.kahn@bhbe.org
.
Live Panel Discussion about the Film "Resistance" with Jeese Eisenberg
Thursday, June 25, 5:00 PM 

Long before he rose to international fame as a mime, Marcel Marceau put his fledgling career as an artist on hold to spirit Jewish refugee children out of Nazi-occupied France, even as his own father was murdered at Auschwitz. Watch the extraordinary new film Resistance, about that little-known chapter of Marceau's life, and then join our discussion with the film's star, Jesse Eisenberg (The Social Network), director and screenwriter Jonathan Jakubowicz (Hands of Stone, Secuestro Express),  Dr. Barry Eisenberg (SUNY Empire State College and Second-Generation Survivor) and Dr. Eileen M. Angelini (SUNY Empire State College and Subject Matter Expert on the WWII Occupation of France). 

Moderated by Richard Salomon, Vice President of the Illinois Holocaust Museum's Board of Directors, with a special introduction by David Estrin, CEO of #TogetherWeRemember and closing word by Susan Abrams, CEO at the Illinois Holocaust Museum.

If you want more info, including how to register to watch the discussion, how to rent the film, watch the trailer, you can email me; robinhershey@comcast.net.  
THE ISRAEL CORNER

The naked mole rat never develops age-related diseases. It stays active and enjoys good bone health, reproductive success and mental acuity for its lifespan of up to 30 years.

Two of many reasons for this creature's healthy longevity are its low body temperature and slow metabolic rate.

For the first time, researchers from the Institute of Gerontology in Kiev and Prof. Vadim Fraifeld's Lab for the Biology of Aging at Ben-Gurion University of the Negev in Israel have replicated those conditions in lab mice. A naked mole rat generally lives about eight times longer than a mouse despite its similar size.

The research results, published in Biogerontology, have intriguing implications for increasing longevity and decreasing major pathologies in humans as well.

According to the scientists, the naked mole rat's burrows are poorly ventilated, keeping oxygen levels are low and carbon dioxide levels high. This may cause the reduction in the naked mole rat's body temperature by 3-4 degrees as compared to mice and slow its metabolism significantly.

Subjecting laboratory mice to the same conditions – called a hypoxic-hypercapnic environment (HHE) — successfully reduced their body temperature and metabolic intensity for weeks and even months.

​​​​​​​And the mice in the HHE voluntarily consumed less food, which is one of the well-known factors in increased longevity.  

"Unexpectedly, the HHE accelerated skin wound healing, despite the lower energy expenditure," the researchers also noted.   

"All in all, a chronic exposure to HHE offers a potential of being a lifespan-extending intervention as well as an efficient tool for treating the overweight and associated metabolic disorders."

The scientists explain that at one point in history, the Earth contained much lower levels of oxygen and higher levels of carbon dioxide.

"There is still some memory in our cells of that period and therefore it should be possible in the future to induce such a state for longer periods," they said.

Moreover, they believe that HHE conditions could be used to help fight obesity, diabetes and perhaps even cancer.

Extracted from Israel 21c, by Hillel Furlager
​​​​​
Membership Commitment Forms
Please return your membership commitment forms for 2020-2021.We would greatly appreciate it if you would please return your membership commitment forms for 2020-2021 as soon as possible - we rely on this information to plan a bright future for us all. Thank you!
STAY AT HOME SHOPPING FROM THE BHBE JUDAICA GIFT SHOP

    BROUGHT BACK BY POPULAR DEMAND
THE ART INSTITUTE CHICAGO-COLOR THE CLASSICS
COLOR YOUR OWN MASTERPIECE!
Includes:Edgar Degas,The Star
              Edward Hopper, Nighthawk
              Vincent Van Gogh, Self-Portrait
              Grant Wood, American Gothic...
                   AND MANY MORE
A great calming project! COST $15, NOW $13.50

See more at our webpage

Contact Robin (847) 287-1233 or Joan (847) 602-2257
We have only a limited edition of each item so contact us soon.
Only credit card payment will be accepted. Curbside delivery for your convenience. 
Please remember to select BHBE as a recipient on your Amazon Smile account! Every little bit helps, you make your purchases and Amazon donates 0.5% to us. For more information, please Click here
Tue, April 13 2021
1 Iyyar 5781
Today's Sefirah Count Is 16
היום ששה עשר יום שהם שני שבועות ושני ימים לעמר
Today's Calendar
Shacharit (Zoom)

: 7:00a
Academy (Virtual)

: 4:00p
Maariv (Zoom)

: 7:00p
---
Upcoming Programs & Events
---
This week's Torah portion is

Parshat Tazria-Metzora
Candle Lighting
Havdalah
Motzei Shabbat, Apr 17, 8:22p
Rosh Chodesh Iyyar
View Calendar
Tue, April 13 2021 1 Iyyar 5781