BHBE News
BHBE News: 6.18.2020
06/18/2020 02:17:53 PM
| | |
| --- | --- |
| Author | |
| Date Added | |
| Automatically create summary | |
| Summary | |
Friday, June 19, 2020
Candle Lighting 8:10pm
Shabbat, June 20, 2020
28 Sivan 5780


Zoom Gala Gala

There is still time to order a great dinner from Zelda's for the Gala.  The deadline is TOMORROW, Friday June 19th.  "Sharing" a communal meal is one special way we can have a sense of community on Sunday, June 28that 6pm. Choice of chicken, salmon or veggie and kid's meal too.  Raffle tickets are on sale until Friday, June 26th at 12 noon.  Top prize $2,000.

The Gala itself will be great fun, filled with super entertainment, humor, and wonderful memories of a pre-Covid BHBE.  To register you must purchase a tribute ad.  (Click here ) to access the Zoom Gala Gala website. Click on Tribute Ads and Registration.  Choose the level of contribution that's right for you. It's easy.  We're also thinking of putting together a zoom after party to extend the festivities.  "See" you at the Gala.
Raffle Tickets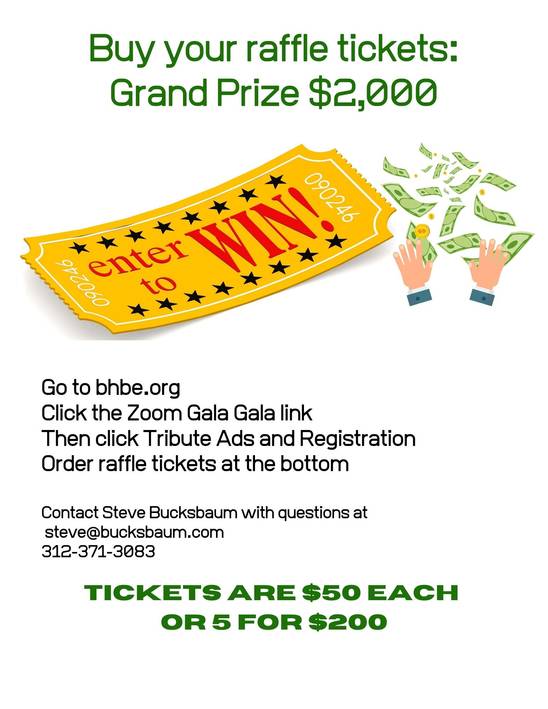 As you are likely aware, when we began transitioning to a "Virtual Shul" we created a webpage with all of this information. We stopped using the online calendar we've all been using for years. Beginning July 1st, we will resume using the online calendar to indicate all of our events. We will be specific and label events held online as "Virtual". When we can resume holding events in person, we will list these here as we've always done. Please let me know if you have any questions. Be well. Michael michael.kahn@bhbe.org


Morning & Evening minyans
Morning and evening minyans are a great way to stay connected to your fellow congregants and perform a mitzvah from the comfort of your own home.  
During the Covid-19 crisis (and really at any time) we are told how important it is to have a routine, particularly to get your day started.  What better way than Zooming to morning minyan and seeing familiar faces and hearing familiar voices from near and far. 

In the evening, when you can't go out to your favorite restaurant or go to a show, you've got a great opportunity to connect and help those saying kaddish through your participation!!! Your participation will also allow you to spend quality time with the Cantor and Rabbi and fellow congregants who lead and participate in services. There is even time after services to schmooze for a bit.

We hope to see you at morning and evening minyans!
Join us this Friday June 19th from 5:30pm - 6:10pm 
For Families with Children of all Ages.

Featuring Cantor Roytman & Rabbi Crane. 
Including a gentle musical serivce that everyone can sing along to, and a special virtual drum circle with the rabbi.
With summer upon us, with its beautiful warm evening breezes, we have much to look forward to -- despite the pandemic.  Two things loom large.  

First is the gala, Zoom Gala Gala, organized by Rob Feder and a superlative group of volunteers, the evening of Sunday June 28.  Information on registration has been sent out, but you can also consult the BHBE web site (information is accessible from the home page) or call the office (847.256.1213) for more information.  This year it will be on Zoom, of course, but this will not dampen the fun.  Please consider attending -- it will be another way for us to connect.

Second is the presidential transition, with incoming President Keri Bahar to assume the office on July 1.  I have said this many times but I will say it again: her leadership, thoughtfulness, dedication to BHBE, and incredible attention to details inspire me; her can-do attitude, appetite for excellence, and love of Jewish tradition give me full confidence that BHBE moves towards the future in superb hands.  I look forward to her Presidency, as I am certain of our community's continued flourishing under her administration.  Although she doesn't need it, I wish her the very best of luck.

Sandy Goldberg
(Very soon to be the immediate-past) President, BHBE
BHBE Volunteer Crew Update
Thanks to the extraordinary efforts of the BHBE Volunteer Crew, we have assisted numerous congregants with shopping and other assistance. As a reminder, if you are in need of support, please email Karen Thirman at
kthirman@gmail.com
 or contact the BHBE office at 847-256-1213 and leave a message.  We will coordinate your needs with our list of amazing volunteers. 
Virtual Pride Havdalah with Chicagoland Jewish Communities
Saturday June 27th, 9:20 p.m.

While Chicago's annual Pride Parade has been canceled for 2020 and so BHBE will not be marching this year, BHBE is a co-sponsor of a community Pride Havdalah event. Join the Chicagoland Jewish Communities as we honor our LGBTQ+ community virtually via Zoom. We'll embrace Havdalah together, and afterwards hear from speakers, enjoy songs, writings, and more. All members of the LGBTQ+ and Allies communities are invited to join this totally free event at any point in the evening that feels comfortable.  You can register  Here  to receive the link, or wait until next week when we will send it out directly.


Core Partners:
Anshe Emet Synagogue
Beth Emet the Free Synagogue
Beth Hilel B'nai Emunah
Jewish Reconstructionist Congregation
Keshet - For LGBTQ Equality in Jewish Life
Temple Sholom of Chicago
LEAVE A LEGACY
Have you reviewed your Planned Giving lately? 
BHBE relies on both current and deferred gifts to maintain and enhance it's community commitments and sacred obligations to it's congregants. 
Now would be a particularly good time to plan your deferred gift to BHBE as we are eligible for up to $14,000 in immediate cash grants if we can reach this year's target for Legacy gifts by the end of July, 2020.
We understand that everyone has a unique family and financial situation. Your Legacy commitment can be designed to match your personal circumstances.
We are not asking congregants to subordinate other important lifestyle and family needs. We are not looking to compete with those needs, but we are asking for part of the residue after all those needs are taken care of. We are asking that you think of BHBE as family.
We hope BHBE merits a priority in your planning.
Your Children and Grandchildren will thank you 
We need just a few more pledges in the next 45 days to reach our target - will you help us reach our goal?
For more information please
click here
or contact Michael Kahn -
michael.kahn@bhbe.org
.
THE ISRAEL CORNER

In a post-lockdown world, the idea of entering crowded shopping malls or sports stadiums is thrilling yet somewhat petrifying. But since public spaces can't be avoided forever, it's good to know they can be made safer.

One Israeli company doing just that is RD PACK. Usually in the business of constructing automatic machines that move, pack and store products, it created a sanitation tunnel that sprays incomers with a disinfectant solution to provide protection against bacteria and viruses, including corona-type viruses.

One such sanitation tunnel is now being piloted at the entrance to Bloomfield Stadium in Tel Aviv. It will remain until the end of soccer season, even though games are currently being held without an audience.

The tunnel can also be placed at the entrance to other public spaces such as hospitals, airports, schools or office buildings. Its automatic system senses when someone is walking through the tunnel and turns on misting nozzles that spray the space with the disinfectant solution.

The saturated environment of the tunnel means that every facet of the people or objects passing through are sanitized, even if they're not directly exposed to the misting nozzles.

 The disinfectant solution being used in the tunnel is one that was developed by chemists Eran Avraham and Izaak Cohen at Bar-Ilan University, in which tap water can be turned into a powerful yet environmentally friendly disinfectant on demand.
​​​​​​​
 According to its developers, the water-based solution is safe for skin and does not contaminate groundwater. Its bacteria-killing properties were proved in tests carried out in Israeli hospitals and has also proved effective in neutralizing corona-type viruses.
​​​​​
Growing and harvesting at BHBE's Garden of H.O.P.E.  is underway.  We've already been able to provide fresh kale, chard, lettuces and herbs for the clients of The Ark's food pantry. Thank you to all of our volunteers!  Congregants are welcome to stop by and check out the crops!
STAY AT HOME SHOPPING FROM THE BHBE JUDAICA GIFT SHOP

    BROUGHT BACK BY POPULAR DEMAND
THE ART INSTITUTE CHICAGO-COLOR THE CLASSICS
COLOR YOUR OWN MASTERPIECE!
Includes:Edgar Degas,The Star
              Edward Hopper, Nighthawk
              Vincent Van Gogh, Self-Portrait
              Grant Wood, American Gothic...
                   AND MANY MORE
A great calming project! COST $15, NOW $13.50

See more at our webpage

Contact Robin (847) 287-1233 or Joan (847) 602-2257
We have only a limited edition of each item so contact us soon.
Only credit card payment will be accepted. Curbside delivery for your convenience. 
Please remember to select BHBE as a recipient on your Amazon Smile account! Every little bit helps, you make your purchases and Amazon donates 0.5% to us. For more information, please Click here
Tue, April 13 2021
1 Iyyar 5781
Today's Sefirah Count Is 16
היום ששה עשר יום שהם שני שבועות ושני ימים לעמר
Today's Calendar
Shacharit (Zoom)

: 7:00a
Academy (Virtual)

: 4:00p
Maariv (Zoom)

: 7:00p
---
Upcoming Programs & Events
---
This week's Torah portion is

Parshat Tazria-Metzora
Candle Lighting
Havdalah
Motzei Shabbat, Apr 17, 8:22p
Rosh Chodesh Iyyar
View Calendar
Tue, April 13 2021 1 Iyyar 5781